These are some of my favorite pictures from the entire trip.  The hot springs and thermal features of Yellowstone are incredible.
The most famous geyser of all, Old Faithful.  This particular shot was one of about 150 I took of a single eruption sequence.  I thought this one best captured the peak point of the eruption, and had a lot of nice detail in the water and steam.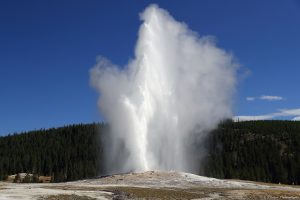 If you hiked the marked trail/decking at Old Faithful, and then continued on, you will come upon this next scene.  I really like this picture as it shows the full range of colors in the park.  The number of people here, compared to around Old Faithful itself, was drastically reduced.  As soon as any amount of effort was required to go somewhere, the herd was thinned.  That was nice.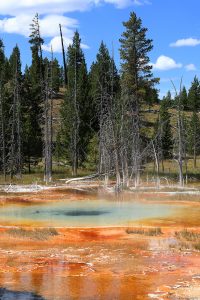 Just a bit further up the hiking trail, you come to this incredible hot spring.  It would have been nicer to be able to get this from a slightly higher angle, but unfortunately, there were no ladders around.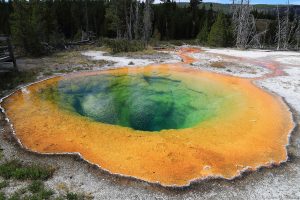 Hiking quite a bit further up the trail was this amazing scene.  It is one of my all time favorite pictures from the trip.  The picture, while pretty impressive, doesn't do the actual scene complete justice.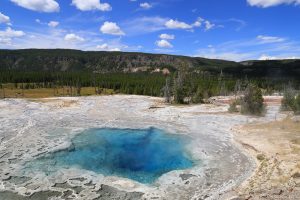 The previous pictures were all in the Old Faithful general area of Yellowstone. That day, we hiked over 12 miles!  It was quite tiring, but it was very much worthwhile.
The next set of pictures come from the Mammoth Hot Springs area.  If you recall from the map in part 1, it's in the upper west area of the park.  These next few pictures might be the most "other-worldly" of all.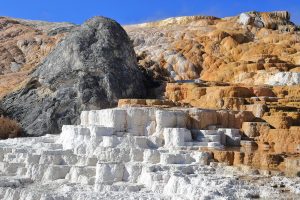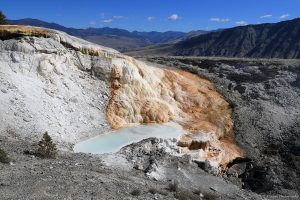 This does not look like planet Earth!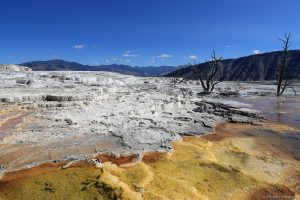 In a slightly different area of Mammoth Hot Springs, there is mixed scenery like this next picture. Milky light blue, along with pine forest.  Very cool!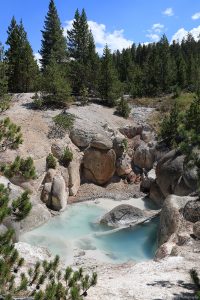 Next up is what is probably the second most famous thing at Yellowstone, the Grand Prismatic Spring. The best pictures of this hot spring come from much higher elevations, so you can see the entire thing at once, but my only access that day was from along its "shore". This picture represents between a third and a half of the entire spring.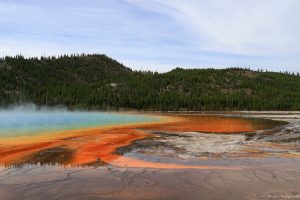 What is really neat, is that this next picture really does belong directly below.  It is the runoff from the Grand Prismatic Spring.  According to Wikipedia, this spring discharges about 560 gallons of 160 deg F water per minute!