Now we get into some of the cool landscapes.  This post focuses on the non-hot-springs areas and part 2 will explore the rest.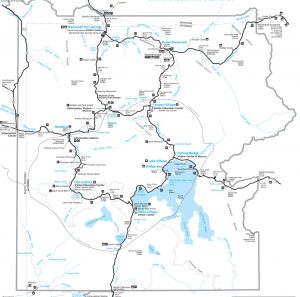 This is a nice map of Yellowstone. It shows the major hubs of the park around two loops.  Our hotel was just off Yellowstone Lake in the lower right side in Lake Village.
The primary thermal/hot springs areas are around Old Faithful in the lower left corner and the Mammoth Hot Springs in the upper left.
Something to note, while the distances between these areas aren't too great, it can sometimes take a long time to drive.  For example, the distance between Lake Village and Canyon Village is only about 16 miles, but it can easily take 45 min or more to make that trip. Especially if you have to stop for a herd of buffalo in your path!  Those guys get the right of way, and can do what they want, when they want.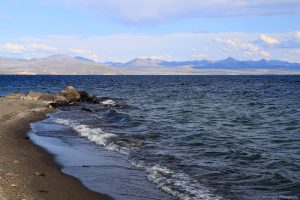 This is was of the first pictures I took after arriving on the first day.  This is Yellowstone Lake, and was only a couple hundred yards from our hotel.  Anna and I explored this beach almost as soon as we got there. You had to climb down a sandy berm to get here, which means there was pretty much nobody else around.  It was awesome. That was a general theme, if you get off the beaten path a bit, you can be very isolated.  If you only pull your car over and barely get out, you will run into big crowds depending on the time of day.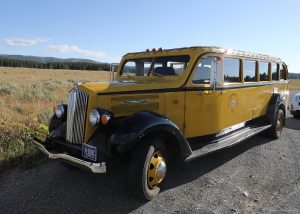 One of the best things I did, in retrospect, was to sign up for a photography tour.  There were a group of about 10 of us being led around by a guide, in a really cool, old, bus.
I took over 2600 pictures during our entire vacation, and I eventually printed 22 of them at 20×30 inches to mount on our walls throughout the house.  Of those 22, five of them were from this half day photo tour!
The next five pictures are those from that tour.  The first picture was taken right at sunrise overlooking Fishing Bridge, and I really like it.  So much so, I made it the front page picture of this website!  I think the cloud ring around the sun is really cool.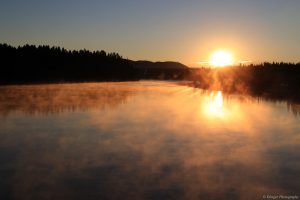 The next picture is overlooking Yellowstone Lake.  It was breathtakingly calm and beautiful.  Yellowstone is at about 8000 ft elevation, so the air is cool and clear. It also takes a bit of time to adapt to the thinner air during hiking.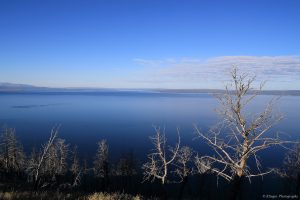 This is a small inland lake.  I really love the clouds reflecting on the surface and the lone duck creating a perfect wake.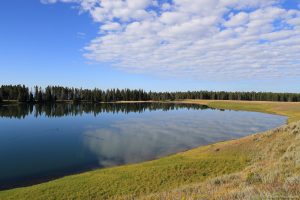 These next two are from the Canyon Village area and are considered to be the "Grand Canyon" of Yellowstone.
What is neat is that they are taken from pretty much the exact same spot.  From one direction is the falls, and if you turn around, you'll see the valley on the right.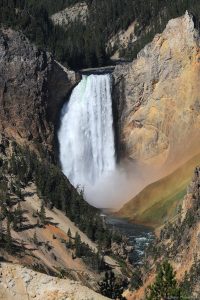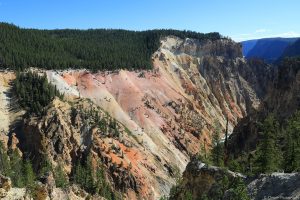 I don't remember exactly where the next two are from, but one of the many smaller, side falls and rivers.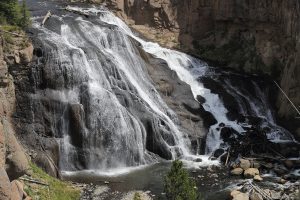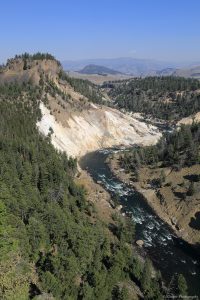 Be sure to check out part 2 to see the thermal and hot springs landscapes.